From mid-September to mid-October 2018 we had the chance to explore this beautiful country: Brazil! We went from Sao Paulo, in the South, up to Jericoacoara in the North.
Our first reflexion is: damn this country is so big!!! Coming from our little Europe it was difficult for us to apprehend the distances. Our itinerary was very ambitious and this was  probably too much for our month long tour. Even so, we were very happy to be able to have a glimpse at the different regions. This will also help us decide what to visit or revisit on our next Brazilian visit! 😉
Another surprise: the South in the winter is not as mild as we imagined. Just exiting winter into spring, it was much colder than expected, especially in comparison to the North where it was super warm even if summer had not started yet. Oh well, lesson learned.
What we liked the most during this month: discovering different landscapes both urban and natural; the food and fresh fruit juices; the helpfulness of random people (once a guy carrying a huge heavy bag on his shoulder stopped to give us indications while seeing we were confused about where to go!). We can say that we are more than impressed by the kindness of regular people.
What we liked the least during this month: observing the very visible contrast between social layers; in some places the sellers were quite aggressive in their approach; that everything is so far away, limiting the number of places you can see in one go. We also did not like to leave behind these amazing fruits behind 😛
Please see below the detailed itinerary based on our month of visiting Brazil from South to North in 2018.
We had a bit of trouble understanding this huge city and we are not sure we completely liked it. We were very lucky to meet our friend and his daughter in Sao Paulo, since they presented us the "other side" of the city which offered us the opportunity to experience the city from the perspective of the locals. We followed them and their advices around the city and it gave us a good overview of the life in Sao Paulo. We also enjoyed two very good evenings in their company: thank you again!
Read our articles about our experience in Sao Paulo here(the city of contrasts) and here (2 days in Sao Paulo).
We believe 2 days there have been enough to explore the main attractions.
We were very fortunate to be invited at our friend's farm for a few days (read article – relaxing near Sao Paulo) of relaxation. From there we could discover the nearest cities and have a feeling of the local culture and the non-touristic areas.
We also got to spend a day by the beach South of Sao Paulo on Ilha Comprida (read article – visit Cananeia and Ilha Comprida), which was also a very nice experience.
Ilha Comprida and the State Park South of Cananeia seemed amazing and spending a few days there could be a great idea if you have some time (and good weather).
2 days on the Costa Verde: Paraty and Trindade
Located on the Costa Verde in between Sao Paulo and Rio de Janeiro, Paraty is a stop we highly recommend. We were there off-season so not sure how touristic it normally gets but we really liked this charming colonial village, its vibe and how its inhabitants genuinely care for the place (read article – Visit Paraty).
When you are in Paraty, you also need to spend a day in Trindade to enjoy its beautiful beaches. Trinidade is close to Paraty and it can be accessed by public bus from the city. Walk your way all the way to the natural pool to swim in a naturally protected area. The area is useful due to the big waves and currents. There you can enjoy the postcard kind of landscape! (read article – Paradisiac beaches in Trinidade)
We would suggest to stay longer than 2 days in Paraty in order to include a boat tour, which we regretted not having done.
Ah Rio… the famous beaches, the Corcovado, the Carnival, the samba, the caipirinhas, the Sugar Loaf…
Silviu's first time in this city was mainly for paragliding; but now with me it was time to explore some more from the ground, not only from the air. We had a great stay in Rio alternating cultural visits (read our article about our visit of the center), hiking our way up the view points (read our article about our hike up the Corcovado) or just relaxing at the beach!
Read our article to discover our recommendations on how to spend 5 days in Rio!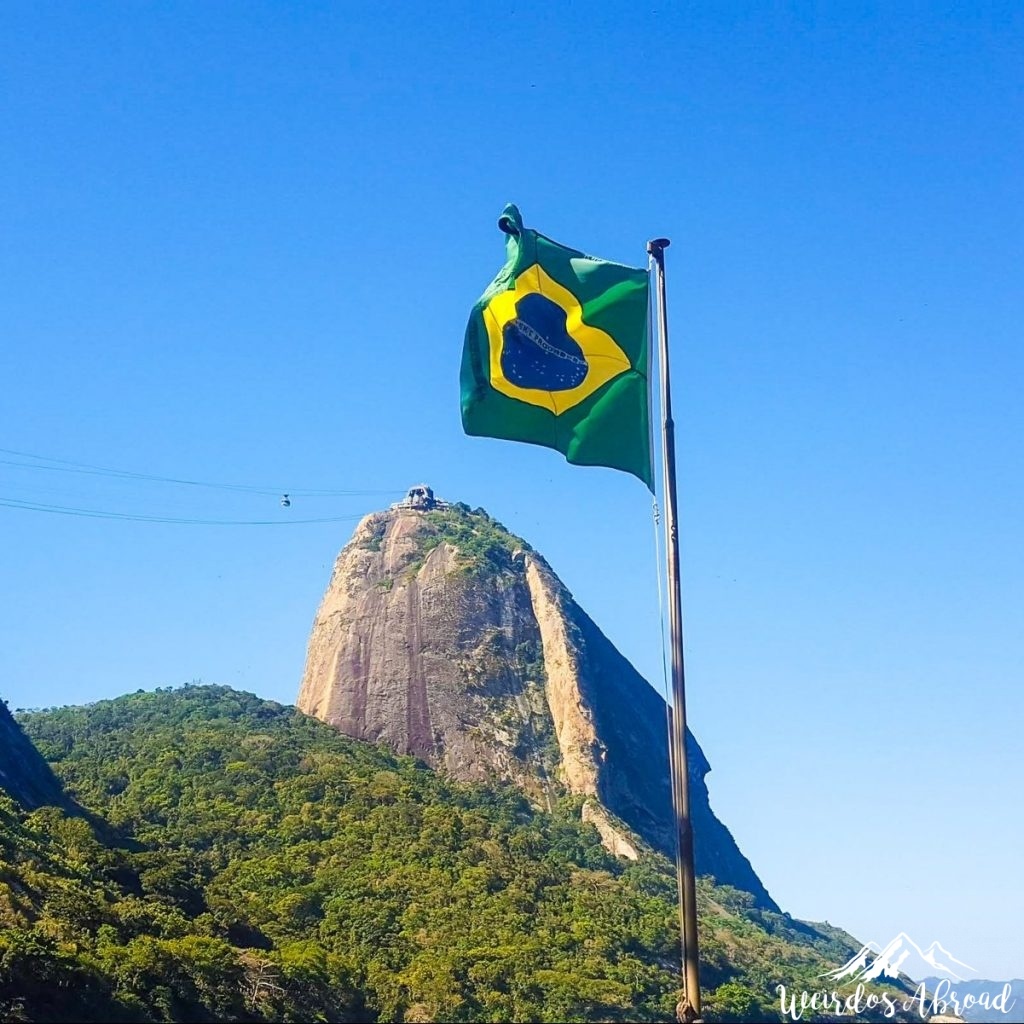 4 days in Chapada Diamantina
We heard about Chapada Diamantina some time ago, in particular about the trek in the Vale do Pati which is known to be one of the best of Brazil… we knew we had to go!
Arriving by night bus in Lençóis (the city gate), we were able to settle down early morning and explore the charming city and its beautiful surrounding of Lençóis (read article about Lencois)
The next day we took of for 3 wonderful and tiring days hiking through the Vale do Pati (read article about Chapada Diamantina)
We completely recommend it! Although in full summer it might get very warm which is adding some challenge but luckily there are many rivers and waterfalls on the way.
4 days in Salvador de Bahia
We stayed longer than expected in Salvador because we both got sick…But this also gave us time to discover at a slow pace this complex city.
Walking around the Pelourinho is a must-do to apprehend the history of the city, its mix of culture and its nightlife… in a safe way! Best time to visit this neighborhood is by the end of the afternoon and in the evening when its streets get animated. You should also extend your visit walking towards Barra beach so you can discover other neighborhoods (read article about Salvador de Bahia)
A 2-3 days stay seem enough for us in Salvador unless you spend some more days exploring the region (like Praia do Forte and its turtles).
2 days in Recife and Olinda
We didn't really have time to explore Recife in detail except from its seafront. Please note that you cannot swim in Recife because of the presence of sharks.
Our main objective stopping in Recife was to open the opportunity to discover Olinda. The little town next located next to Recife was very pleasant. We walked through this colonial colorful district located up a hill and had a very nice lunch. People say that Olinda is "the pearl of Brazil", but we think otherwise.
Read our article about Olinda to have more details about our brief passage there.
We personally feel like we could have skipped that part and win some time on the transportation by heading directly from Salvador to Fortaleza, but you never know until you don't experience it. 🙂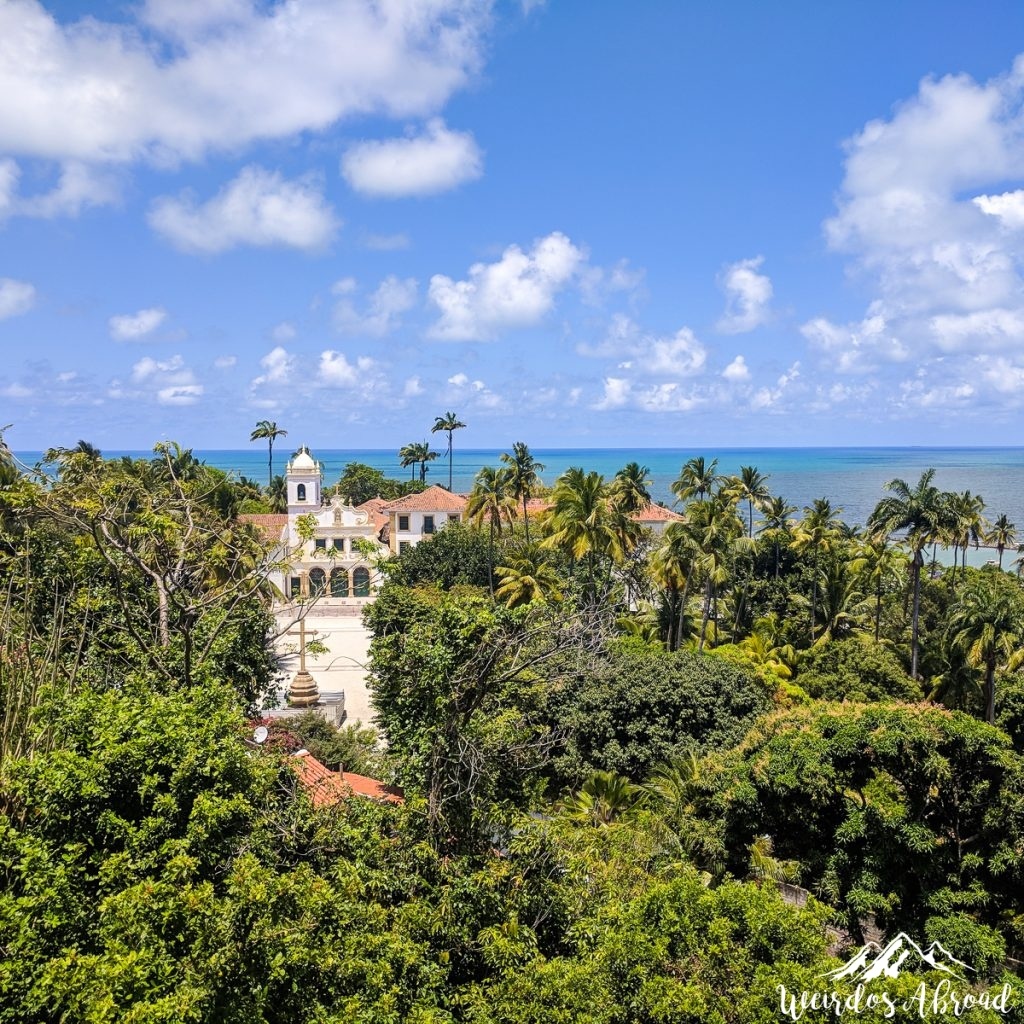 6 days in Ceara state, Nordeste
During those 6 days in the land of wind we were able to discover 4 locations.
We first spent 2 days in the city of Fortaleza, enjoying its beaches and discovering the center. We then hit the road by car up to Cubumco, a famous beach and kite-surfing spot, before continuing towards Prea, a small fishermen village at the gate of Jericoacoara Park. We finally discovered Jericoacoara's famous city and dunes in one evening. Read article about Ceara.
We definitely loved this area and in particular the peacefulness of Prea. Silviu was also able to learn kite-surfing. We wished we would have stayed longer and maybe also take the opportunity to discover the Park of Lençois Maranhenses. Next time we know better!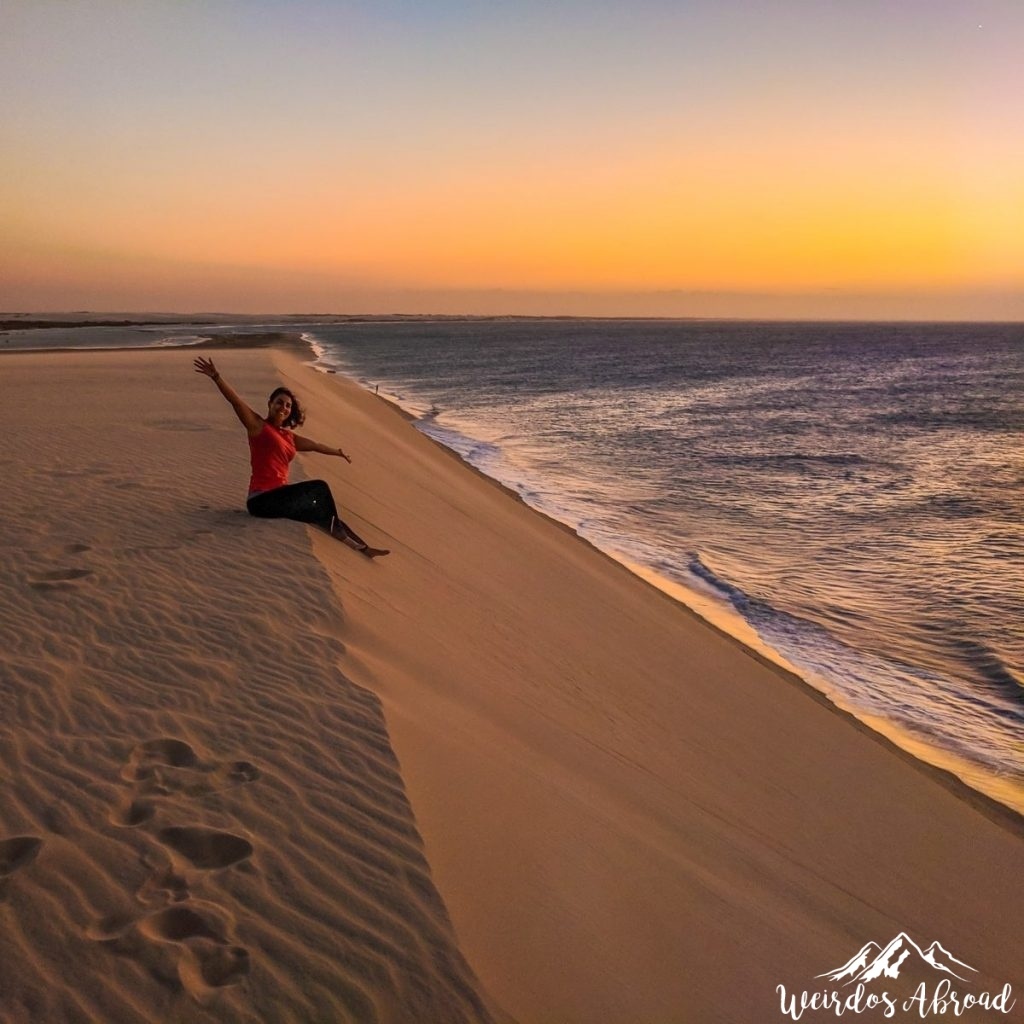 Foz de Iguaçu as a city itself does not have any special interest. But we wanted to take our time to visit the Iguaçu waterfalls and therefore to not do everything in one day (arriving, visiting the National Park, going to Argentina).
Now, realistically speaking it is completely feasible to do it in one day as it only takes about 3 hours to visit the Iguaçu Falls on the Brazilian side.
You can find all the information and our recommendation about the visit and the border crossing in our article about the Iguaçu waterfalls on the Brazilian side.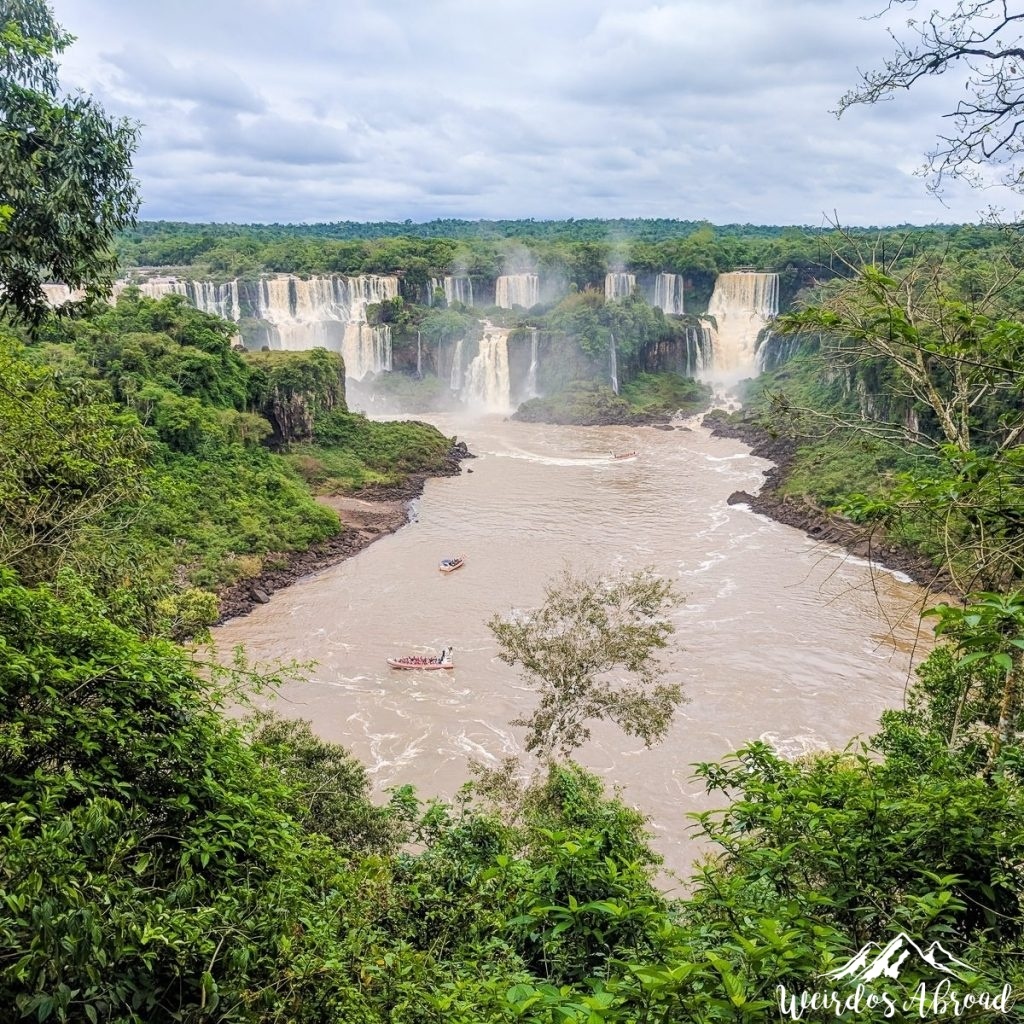 How to travel within Brazil?
Means of transportation we used.
Between cities
There are two main ways of transportation between cities: by plane or by bus. You should always compare both options since the plane happens to sometimes be cheaper (as well as much faster of course). We flew with Latam, Gol and Avianca and had no issues with any of them. Note that Azul Linheas can also be an interesting option for less usual routes!
You will also need to choose between night and day buses. In our opinion this option should depend on the length of the journey (more than 7 hours means you would lose a full day in transportation) and of the route (are there any landscapes to see or it will mainly be highways?).
Finally know that they are different classes of buses: convencional, executivo. semi-leito, leito (from lowest to highest). The difference concerns mainly the space between seats, the width and level of inclination (the leito category being a bed). The convencional category is the only one where you may not have toilets in the bus; but no worries the bus will stop every 3 hours. Some extra-services might also be included, such as screen, free water, blankets, USB plugs… The prices will vary accordingly. But for long journeys it can really make a difference so you might want to think about it!
Inside cities
We used Uber mostly when the public transportation was no so easy (from and to the airport for instance). But whenever we had an easy option, we would opt for the bus or subway. The reason for preferring Uber over multiple bus connections is not only the convenience but also that multiple buses means you have to pay your ticket several time. in the end it might not be such a big difference compared to Uber, since it is pretty cheap! We find Uber to be a safe option too in Brazil.
How do you like our itinerary?
I hope our comments and suggestions will help you define the itinerary that works best for you. There is so much to see in this giant country. Please let us know if you find anything else worth visiting.
If you have questions don't hesitate to contact us 🙂